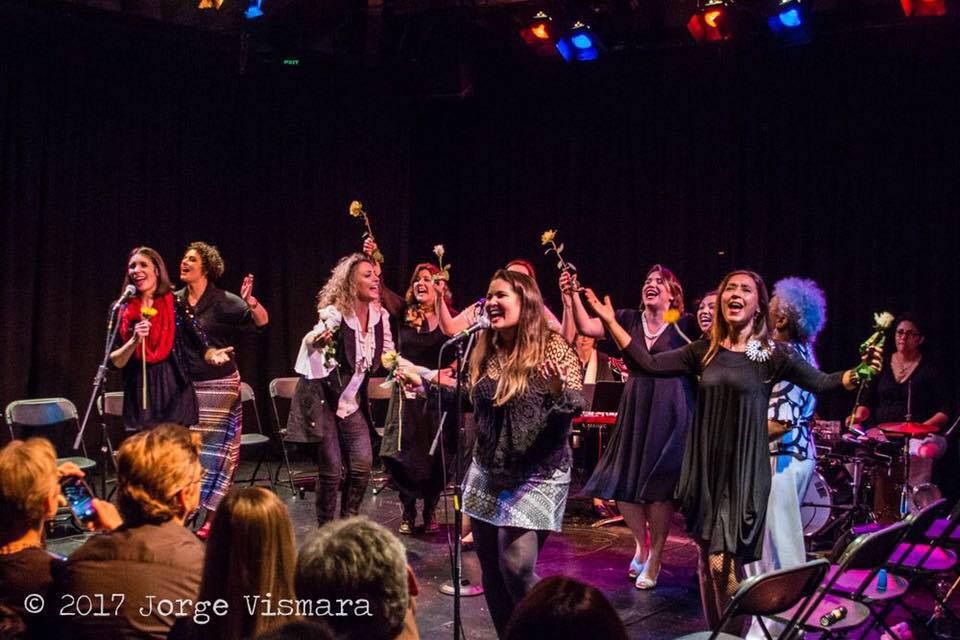 On Friday, March 3rd, 2017 I had the pleasure to attend the 6th Brazilian Heart, a Celebration at the Kelman Theater (Electric Lodge) in Venice, CA.
A friend of mine and singer pal Karen Celeste Kruz invited me to go to the event with her. I didn't know a lot about it before the show, but she told me there were going to be 11 Brazilian women singing. That was enough to get me to go. That and the title. In the end, there were 13!
First of all, I'm a big fan of Brazil, even more so since my trip while the 2016 Olympics were on and having the pleasure to perform in two shows with Brazilian band Contrabanda. Secondly, I have family from Brazil, now living in Recife and as a result I've become more familiar with the Brazilian way of life and the people. Third, but not final, I have a love of the Brazilian music, both for me to perform and also just to listen to and enjoy, especially the rhythms.
We got lucky on this evening and had front row seats, right in the center!
Straight away, after we got comfortable and were waiting for the show to start, we were intrigued by the stage setup. There were two rows of chairs on the left and right side of the stage, facing each other. It gave an intimate look and feel. We knew that those chairs would be filled soon by the lovely women who would sing to us and share their hearts.
The band entered and started playing. It was only a two piece, with keys and drums/percussion, but they made a rich a full sound as if there were more of them there. The 13 Brazilian female singer/songwriters gradually entered in a fun and playful style, welcoming us and beckoning us to join them in their celebration.
We were treated to songs from the American Songbook and more, recognizing International Women's Day and performing the music of jazz artists from Brazil, and also classics recorded by Ella Fitzgerald, Sarah Vaughan, Billie Holiday, and Nina Simone, interwoven with poetry and stories. as they paid homage to Jobim. The beautiful quotes and prose interspersed between the songs, were written by Katia Moraes, Debora Edler Brown and Mariana Leite.
We were moved and swept away for the whole performance and the show ended so soon. Sitting in our chairs we felt the hearts of these collective women as they shared their joys, passion, sorrows and more. Women, mothers, girlfriends, wives, aunties, sisters….all coming together in a delightful evening of song.
The show was dedicated to the Women's March and thanks were given to Dolores and David Mead, Daniele Demetrio and Miriam for their generous support.
"Brazilian Heart, a Celebration" was first created in 2012 to pay homage to inspiring Brazilian singer-songwriters.
If you'd like to know more or consider becoming a Co-Sponsor of the 2018 show, please contact brazilianheartmusic@gmail.com (310) 908-0835.
Obrigada to all those involved in sharing an uplifting and inspiring evening.
Kathryn