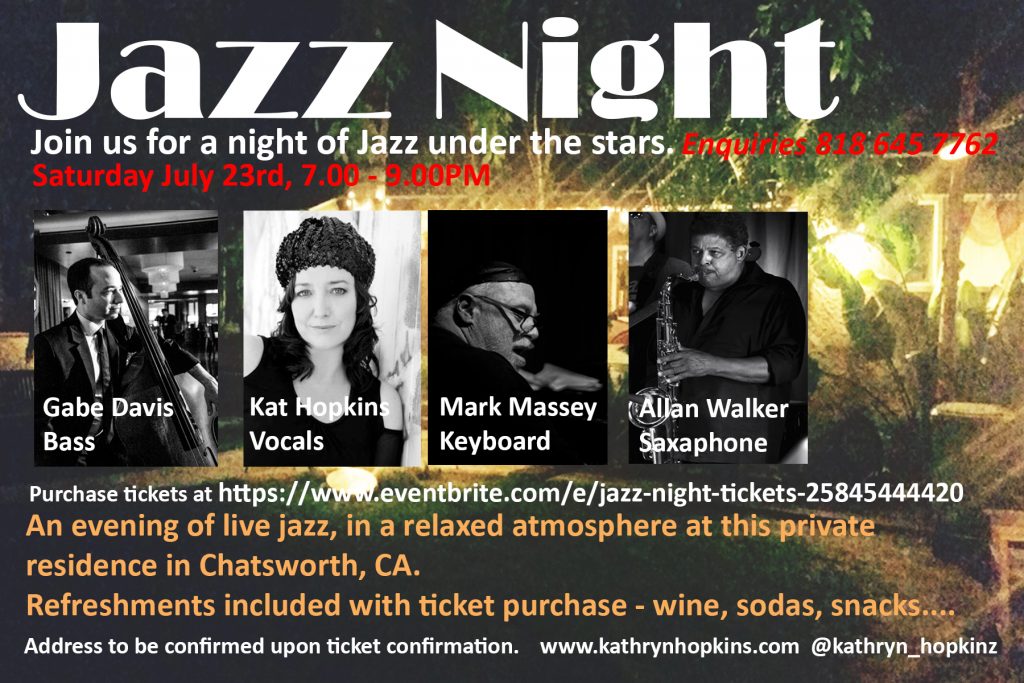 Join us for an evening of elegant Jazz in this private Chatsworth residence.  Rebecca and Kathryn have collaborated to bring together some of the finest musicians to entertain and delight you with their steaming, swinging tunes.   You'll enjoy the relaxed atmosphere and vibe, while being able to mingle and chat at your leisure.  Light refreshments will be provided so you can sip on a beverage or nibble on a snack while you sit back and enjoy the show.  You might even feel inspired to join the dance floor.  It has been known to happen.
Mark Massey – Keys – http://www.markmassey.com
Allan Walker – Sax – http://allanwalkermusic.com
Gabe Davis – Bass – http://www.gabedavisbass.com
Kat Hopkins – Vocals – www.kathrynhopkins.com
Click here to purchase your ticket online through eventbrite and read more about the event and the organizers.  Tickets are $20 per person and do include light refreshments.
Doors will open at 6.30pm and the live music will be from 7-9pm and close at 9.30pm.
Please feel free to share this event with others. You're also welcome to BYO if there's something specific that you like to enjoy or if you have any particular dietery requirements. Otherwise, grab your ticket and turn up.
Created in the spirit of collaboration by Becky Thompson and Kathryn Hopkins.
WHEN

WHERE

Chatsworth, Los Angeles, CA 91311 – View Map Address provided upon ticket confirmation
Thank you for supporting live music.